About
Welcome to my online home! Here's where I open the door and invite you inside to meet my literary family: my 15 nonfiction books, 200 magazine articles (some available here), and the 7 historical mysteries written by my fictional self, Mary Miley. I've signed a contract with Severn House to publish my new mystery series set in Chicago during my favorite decade, the 1920s. The first, The Mystic's Accomplice, hit US shelves last June and just appeared in paperback; the second, Spirits and Smoke, was released in ebook and hardcover on January 4. The ink is drying on the third, titled Deadly Spirits. My editor says it will release in September. On a personal level, I'm busy at Valley Road Vineyards, helping plant vines on the new acreage and working on the bottling assembly line. I'm eager to start traveling again in 2022!
News & Events
This month marks the release of the second in the Mystic's Accomplice series, Spirits and Smoke. The publisher brought it out first in hardcover and as an ebook–the paperback version will be released in August. I was thrilled that it merited a rare starred review in the Library Journal, and then learned it got a second starred review in Publishers Weekly. I've never written a book that got TWO starred reviews!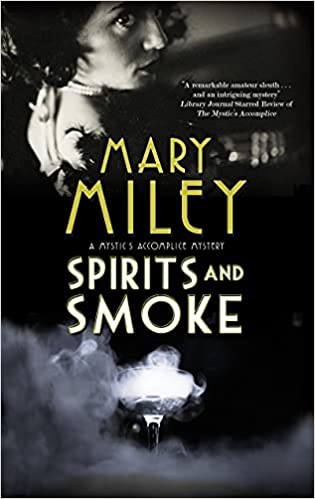 The story features Maddie Pastore, a reluctant sleuth struggling to survive in 1925 Chicago, when gangsters ruled the streets and Prohibition turned law-abiding citizens into criminals. The word "Spirits" in the title refers both to bootleg hooch and to the ghosts a fraudulent medium conjures up in her seances; "Smoke" is present at the seances and is also Twenties slang for deadly wood alcohol, the murder weapon of choice in this whodunnit. Available at your local library, bookstores, and online.
Articles & Podcasts
Colonial Williamsburg recently re-posted on its website the back issues of its national magazine, The Journal, and its more recent iteration, Trends & Traditions. Articles from twenty years ago are available to the general public once again, with accompanying illustrations and other features. Dozens of my own articles are among them. https://research.colonialwilliamsburg.org/foundation/journal/feature2.cfm?fbclid=IwAR0e558V2CB7ZjmebhbiO0Nib-dW8zCaCHCM_WcUClReYve-BYyC3qhPvT8