News & Events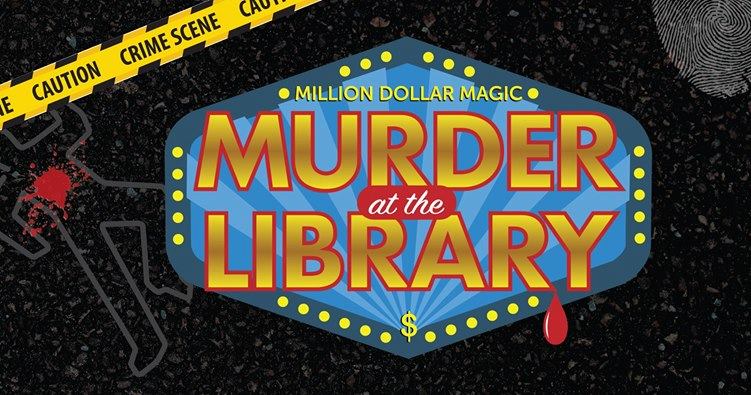 For the fourth year in a row, Friday and Saturday nights brought murder to one of Chesterfield's libraries. This popular event, which sold out fast, included a whodunit performance by some exceptional hams, er . . . thespians–the employees of Chesterfield County library system–with wine/beer and lovely food, terrific door prizes (mostly packages of books–what else?), a quiz show game with prizes, and book signings with six area mystery authors. Can they top this next year?
I've just learned that I'll be speaking at the 2019 Historical Novel Society Conference on June 21. My session, titled Weird-but-True Things No One Knows about the Roaring Twenties, is scheduled first, at 8:00 on Friday morning at the Gaylord National Resort in Oxon, Maryland (across the river from Washington DC). I'll be up early that morning, you can be sure of that! For the complete schedule of speakers for the 2-day conference, click here.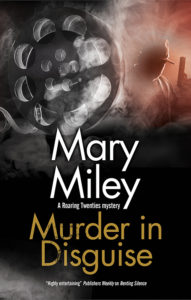 My publisher released the paperback version of my latest mystery today–at last people can get the inexpensive format!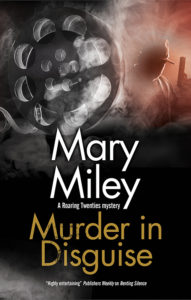 Just learned my publisher will be bringing out my latest (the fourth) in the Roaring Twenties series, in paperback–finally!!–in November. I'm pleased, because that brings down the price to a reasonable level.
I was honored to be one of three mystery authors invited to Atlee Library's Mystery Night, May 10. Join us at the library and learn the tricks writers use to make their mysteries mysterious. Free to the public.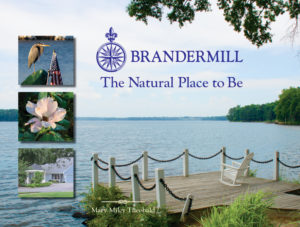 A lovely review for the Brandermill book in the Chesterfield Observer: "It's a tightly written history book by Richmond author Mary Miley Theobald . . ." Read the entire article here. 
Signed about 100 Brandermill books last night at the coming out party, held at the Brandermill Club House. I gave a short talk and listened to people rave about how great the book looks. The credit for that goes to the book designer, Carol Hoffler, left, but I'm hoping people fell the same way when they read my text. 
Hollywood came calling yesterday. I received a message from an actress and a producer who are interested in turning my Roaring Twenties series into film. All very exciting and flattering, of course, but I must tell you, these things seldom come to fruition. But hey, it's fun to dream!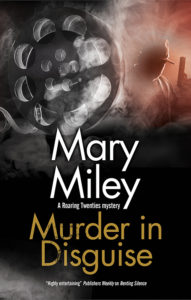 Come to a Book Birthday Party on Aug. 16 at Chop Suey Books in Carytown! My latest mystery, MURDER IN DISGUISE, will be released that day and, in the spirit of the Roaring Twenties, I'm doing a short reading and serving suitable Prohibition fare. Convenient free parking behind the Byrd Theater across the street.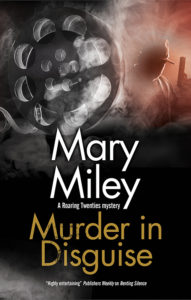 Author: MARY MILEY
Title: MURDER IN DISGUISE
Publication: PUBLISHERS WEEKLY
Issue: 19TH JUNE 2017
Murder in Disguise: A Roaring Twenties Mystery, Mary Miley. Severn, $28.99 (240p) ISBN 978-0-7278-8714-6
 The shooting murder of projectionist Joe Petrovitch, during a showing of Chaplin's The Gold Rush at a Hollywood movie theater, propels Miley's engrossing fourth Roaring Twenties mystery (after 2016's Renting Silence). The police rush to the theater, but the gunman escapes without a trace. The victim's wife, a hairdresser at the Pickford-Fairbanks Studio, asks script girl Jessie Beckett, who's a skilled amateur sleuth, to investigate. With help from Adele Astaire (Fred's glamorous sister and dance partner), actress Myrna Loy (later to achieve fame in The Thin Man), assorted vaudevillians, and police detective Carl Delaney, spunky, resourceful Jessie sets to work. Aficionados of showbiz history will delight in the technical details of filmmaking in the silent era and the peripatetic lives of the performers. Readers will also get the lowdown on bootlegging, speakeasies, and gin joints. Series fans will be pleased to know that David Carr, Jessie's love interest, has a tidy subplot of his own.