The Impersonator
A struggling young vaudeville performer who is persuaded to impersonate a missing heiress gets caught up in a scam that thrusts her deep into the Roaring Twenties' world of gangsters, bootleggers, and murder.
Book Flap:
In 1924, a young vaudeville actress takes on the role of a lifetime when she impersonates a missing heiress in the 2012 MB/MWA First Novel Competition winner. In 1917, Jessie Carr, fourteen years old and sole heiress to her family's vast fortune, disappeared without a trace. Now, years later, her uncle Oliver Beckett thinks he's found her: a young actress in a vaudeville playhouse is a dead ringer for his missing niece.
But when Oliver confronts the girl, he learns he's wrong: orphaned young, Leah's been acting since she was a toddler. Oliver, never one to miss an opportunity, makes a proposition–with his coaching, Leah can impersonate Jessie, claim the fortune, and split it with him. The role of a lifetime, he says. A one-way ticket to Sing Sing, she hears. But when she's let go from her job, Oliver's offer looks a lot more appealing. Leah agrees to the con, but secretly promises herself to try and find out what happened to the real Jessie. There's only one problem: Leah's act won't fool the one person who knows the truth about Jessie's disappearance. Set against a Prohibition-era backdrop of speakeasies and vaudeville houses, Mary Miley's Minotaur Books/Mystery Writers of America First Crime Novel Competition winner "The Impersonator" will delight readers with its elaborate mystery and lively prose.
Follow The Impersonator on Facebook.
Nominated for the Library of Virginia 2014 Literary Award!
Praise from David Baldacci:

"Miley shows a deft touch and sets a blistering pace . . . Leah Randall/Jessie Carr leaps off the pages in the Roaring Twenties period piece that drips with bathtub gin, truck-size cars, outsize personalities, money, high stakes and enough twists, turns and sleights of hand to keep one reading late into the night. . . Simply put, this book is FUN."
Praise from Katherine Neville:
"Miley has delivered a tale that lures us into the dangerous underworld of Prohibition: rum smugglers, bootleggers, and the glamorous lost realm of vaudeville . . . a realm so real that we can almost smell the greasepaint." The Impersonator is an exciting debut!"
Starred Review from Publisher's Weekly:
"Miley's lively debut . . . The story is engrossing, the characters satisfyingly larger than life, and one can only hope for an encore from the smart, feisty, and talented heroine."
Library Journal Review:
"Compelling characters, an engaging story line, and a heroine with lots of moxie make this a thoroughly enjoyable read." 
Booklist Review:
"Verdict: Miley's clever historical debut successfully portrays an intricate puzzle featuring multiple cons. Her protagonist dazzles us with her fearlessness."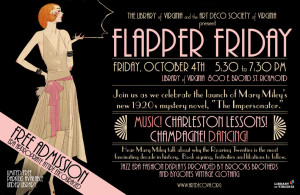 Is your book club reading The Impersonator? Consider posing these questions:
–Did you hear stories from your grandparents about the Roaring Twenties? Prohibition? Women's rights? 
–What parallels do you find between Prohibition of alcohol in the 1920s and today's prohibiting of recreational drugs? Do you think the government should prohibit or regulate alcohol, recreational drugs, medicine, cigarettes, or other items? 
–Some historians believe the women's movement made its greatest advances in the 1920s. What evidence for this did you find in The Impersonator? What examples of limitations on women did you notice in the story? What could Jessie do or not do back then that we take for granted today?
–Vaudeville began in the 1870s and reached its height in the 1920s when this story takes place. It declined in the 1930s and was gone by the 1940s. Why did this popular form of family entertainment disappear?
–The Roaring Twenties was a virulently racist era, the height of the Ku Klux Klan in both northern and southern states, and a time when anti-black, anti-Catholic, anti-immigrant, anti-Semitic, anti-Asian, and anti-gay sentiments were universal. What makes Jessie more open-minded than the typical American?
Here are the first 2 chapters of THE IMPERSONATOR:
1
I felt his eyes before I saw his face. A quick sweep of the audience and I spotted him, the man from last night. On the aisle again, Row C, Seat 1. A good choice—his bulk would have overflowed the armrests of an interior seat and caused his neighbors to curl their lips and lean away.
I am sensitive to being watched. Whenever someone's eyes rest overlong on me, a prickly awareness flushes across my neck and shoulders. It comes from a lifetime spent on stage, honing the subtler tricks of the trade—the toss of the hair, the jut of the hips, the flutter of the fingers—whatever pulls the audience's attention. I can throw attention too: a gasp and wide eyes will send them searching for the cause of my surprise; my languid examination of another actor will turn every head in the audience to him. I know what I'm doing, and I know when I am doing it. At that moment, I was doing nothing. I had finished my line and moved stage right where I stood like a marble statue so as not to distract from Darcy's solo verse.  I was doing nothing to draw the fat man's stare, yet he was staring.
Had he been young and attractive, I would have been pleased, but this man made me uneasy. He wasn't watching the act; he was watching me. Two nights in a row. I'd put it down to my great beauty, but I live my life close to the mirror, and I know better.
I missed my cue—something I'd hear about later. Hands on hips, I tap danced back into the lights, caught up with Angie approaching from stage left, and the seven Little Darlings began to sing the final refrain.
"You've got to see Mama ev'ry night,
Or you can't see Mama at all!"
All eyes were on me now, and I blocked any thought of the fat man in the third row.
2
Three bows. It should have been two, but "Mama" stole the last one, pulling us back on stage as the applause drizzled away, leaving us to slink off in silence. I was mortified, but no one blamed me, I was just a kid. So to speak. We got out of the way for the Kanazawa Japs.
Our dressing room was as small as a closet. Angie kept bumping my elbow as I wiped off the greasepaint. I snapped at her, then apologized. She was a good kid, wiser than her seventeen years, and a good friend since she'd joined the Little Darlings a couple years back. The closet wasn't her fault. Fact of the matter, it was better than most I'd seen growing up, with electric lights and heat and toilets in the basement. The Creighton, like all Orpheum Circuit theaters, were Big Time and pretty decent, all in all. But even a headliner's dressing room at the Creighton would have been seriously crowded with nine of us struggling to change to street clothes.
At last I escaped, my coat over my shoulders and Angie at my heels.
"Lordy mercy, I could use a drink!" she exclaimed—uselessly, since we both knew my bottle of hooch was empty and neither of us knew Omaha well enough to find a speakeasy that would admit two girls who looked fifteen. "Three shows! Whew!"
"Many's the time I've played four or even five shows a day," I said. "And in theaters without dressing rooms at all. We're lucky to have made Big Time."
"I know," she said, but she didn't really.
We threaded our way down the narrow passageway choked with crates, props, barrels, and paint cans. Angie caught her foot in a coil of rope and dislodged a rat. She smothered a scream as it scurried ahead of us and disappeared into the shadows.
"Yikes! Where's the Cat Circus when you need 'em?" I said, immediately regretting the little quip when I saw the quiver in Angie's lip. She was sweet on the young man who managed that act, and we hadn't shared a booking with him in many weeks.
"Button up," Angie said, as she squared her shoulders and threw open the heavy stage door. March in the Midwest has its pleasant days. This wasn't one of them.
"I'm going back to Mabel's," I told her by way of an invitation. "I snitched some rolls and chicken legs when no one was looking. Enough for two."
The alley was muddy and littered with broken glass. Old playbills clogged the gutter. Ahead of us, a voice called out to someone, "Jessie!"
Angie and I tied scarves over our heads and made our way toward the main street, guided by the light of the single gas lamp that glowed in front of the theater. It was a nine-block walk to Mabel's boardinghouse where the Little Darlings were lodged this week. Tomorrow was our last night. On Sunday we'd jump to Tulsa, a day's train ride if we were lucky and there were no cows on the tracks.
"Jessie!"
I paid no attention. It wasn't my name.
Then I saw him in the lamplight. The fat man from the aisle seat. Waiting for Angie and me to come down the alley. Except I knew he wasn't waiting for Angie.
Nothing to worry about; I'd blown off men before.
He stood with his hands in the pockets of a cashmere topcoat, a Vandyke beard on his chin, and a fine fedora on his head. "Jessie! Jessamyn Carr!" he said as we came closer.
I gave an exaggerated look over my shoulder, shrugged, and attempted to walk past him.
"Wait! A moment, please. Just a moment. I recognized you from the audience, Jessie. You remember me, don't you? Uncle Oliver? Of course you do."
He didn't grab my arm or try to touch me in any way, and his round face was creased with what looked like genuine anxiety. Maybe, just maybe, he was legit—and I didn't want to be unkind. I decided to play it straight. "I'm sorry, sir. You've mistaken me for someone else. Excuse us, please."
"No, I can't be wrong. You're Jessie Carr. Even after all these years, I'd recognize you anywhere—the auburn hair, the eyes, the freckles." His sincerity was unmistakable, and I felt a stab of sympathy for him.
"Look, Mr. Oliver, I am sorry. But honestly, I'm not your niece. I've gone by a lot of names in my life, but Jessie was never one of them. I guess I look like her, but you know what they say: there's a double for every one of us somewhere in the world." His expression was almost comical with disbelief, and he seemed to grow smaller, like a round balloon with some of the air let out. I felt sorry for him. "Is your niece in vaudeville?"
"Oh, no . . . at least, not that I know of," he replied, peering hard at my face to watch for my reaction as he continued with his tale. "My late sister's child, Jessamyn Carr, disappeared seven years ago, in the summer of 1917. Ran away, no doubt. No one has seen her since. You look so much like her . . . those freckles . . . She would be twenty now, almost twenty-one. At first glance I thought you were too young, but after careful study, I realized you were older than the girl you play on stage. Are you sure there's no chance that you could be—"
"Well, I'm older than twenty," I said. His eyes widened in surprise. So did Angie's. I generally keep mum about my real age. Most people in the business figure I'm around seventeen, and they're amused at how much younger I appear, on stage and off. It's been the key to my success, really. "I've been in vaudeville since I was a baby, so I can't be your niece."
He gave a great sigh and rubbed his hand over his face. "I beg your pardon, young lady. I—I really thought . . . you are so like her, exactly as she would look grown up. It's—well, it's uncanny. Excuse me."
He bowed from the waist like I was royalty, lifted his hat, and walked off in the opposite direction from Mabel's.
Angie arched her eyebrows in a silent question that I answered with a shrug of my shoulders.
"He seemed so sure . . ." she trailed off. I knew what she was thinking. Although we'd been in the same act for a couple years, she knew almost nothing about my life before the Little Darlings.
"I feel kind of sorry for him," I said as I watched him disappear into the night.
"He reminds me of Fatty Arbuckle," Angie said softly.
"I'm not his niece."
Angie giggled. "Maybe you should have said you were. Maybe he's fabulously rich and was going to leave you all his money!" And we laughed our way back to Mabel's.
To continue reading on ebook, click here.