Nonfiction
Reflect on these images, not only with your eyes. Hear the soft cadence of unshod hooves on packed earth, the splash of a paddle into placid water, the scrape of an iron-rimmed wheel on a sandy road. Inhale the scent of a woodland spring or a new leather saddle on a spirited steed; taste the crisp winter air after a snowfall or a mug of ale at a ferryman's tavern. Feel the jolt of a carriage on rutted roads and the gentle canter of a placid mare. Travel back in time to colonial Virginia through the lens of noted photographer David Doody. Text by historian Mary Miley Theobald.
 (coming November 2015)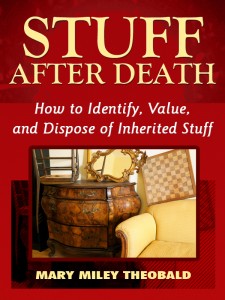 It happens to most of us at some point. A loved one dies and we are left with a houseful of Stuff, much of which is unfamiliar and unwanted. How do we decide what is worthless and what is worth saving? How do we know what to keep, sell, donate, or toss?
In clear and entertaining language, Mary Theobald provides shortcuts and solutions to the inevitable problems that arise when dealing with Stuff after the death of a loved one or when a senior downsizes into a congregate care facility. Don't lose sleep wondering whether you've sold a valuable object for a pittance! Maximize your dollars and minimize your worries with STUFF AFTER DEATH. 
ebook $4.99; paperback $9.99  Amazon or Barnes & Noble 
      Walls do, indeed, talk in this compelling chronicle of Virginia's 200-year-old executive mansion. Created to coincide with the mansion's bicentennial in 2013, First House brings to life the private stories of the governors and their families who shaped the destiny of this unique home.  Lavishly illustrated with images old and new, most seen here for the first time, the book traces triumph and tragedy through the turbulence of wars, fires, economic depressions, and renovations in a story that mirrors Virginia's progress from the nineteenth century into the twenty-first. This stately home on Capitol Square, completed in 1813 and occupied by more than fifty "first families," has truly earned its place in history as Virginia's "First House."
Retail $34.95
It's here at last!
Every day, stories about people or objects are repeated in museums, schools, and historic sites that are not true. Some are outright fabrications. Others contain a kernel of truth that has been embellished over the years. Because they are catchy, humorous, or shocking, these stories often stick in our memories when less sexy information slips away. It's hard to visit a historic site or read a text book today without encountering at least one of these myths. How many have you heard? How many do you believe?
$12.99 Order now for an autographed copy.
Candles flicker in the windows and brightly colored fruits encircle a fragrant evergreen wreath. Boughs of holly deck tables, banisters, and doorways, and ivy tendrils drape the fireplace mantel. An apple pyramid crowned with a pineapple presides over the Christmas feast. Such familiar yet distinctive images of a traditional Colonial Williamsburg Christmas have become cherished staples of American culture. This lavishly illustrated book celebrates Colonial Williamsburg's decorating style as it explored the evolution of Christmas decoration in the historic town from the eighteenth century to the present.
$24.95 Order Now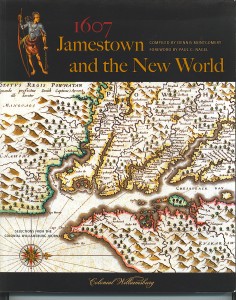 The first permanent English settlement in North America was established at Jamestown, Virginia–thirteen years before the Pilgrims landed at Plymouth Rock. 1607: Jamestown and the New World tells the stories of the Indians who lived here before the English arrived, of the settlers who crossed the Atlantic, and of what happened when the Old and New Worlds collided.
$34.95 hardbound; $19.95 softbound
On one level, this is the story of Virginia's Christmas, how its customs evolved from pagan, Roman, English, Dutch, and German precedents and how its own homegrown traditions developed. But in a larger sense, it is the story of America's Chrismtas, for the American celebration is rooted in Virginia.
America started in Virginia. So did its Christmas.
$16.95 softbound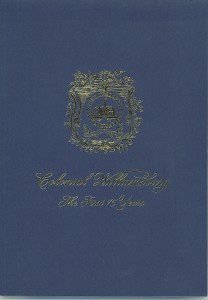 This book tells the fascinating story of how the Reverend W. A. R. Goodwin and John D. Rockefeller, Jr., went about restoring Virginia's colonial capital in the midst of the Great Depression. Equally engrossing is the account of how the Williamsburg that guests see today was transformed from a sleepy southern town into a city alive with the voices of history.
$7.95 soft cover
Offering expert advice for every phase of museum store management, this volume is essential reading for anyone planning to open or manage a museum store. Theobald takes the guesswork out of planning and managing the museum store, informing the manager on all relevant topics such as sales tables, profits, licensing, training, product promotion, publications, inventory, merchandise, and trademarks, to name a few. The second edition contains an additional chapter on merchandising, updated statistics, POS information, more illustrations and examples, additional advice on Related/Unrelated products concerning the IRS, and information on vendors and other resources.
$31.95 softbound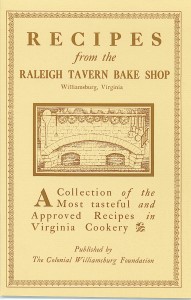 Do you enjoy old-fashioned baking and using original, historical recipes? Then this is the book for you! Do you prefer recipes that work in modern kitchens? Then this is the book for you! It has recipes from 18th-century cookbooks that have been adapted to 21st-century kitchens. You get to choose which one to follow! (Personally, I recommend the modern version…)
The most requested recipe in this collection is the one for those wonderful gingerbread cookies everyone remembers from the Raleigh Tavern, but there are many others for tasty baked goods (Sally Lunn bread, oatmeal cakes, Queen's Cake, fruit pies, etc.) that have been served for decades at Colonial Williamsburg taverns. A wealth of good eating!
$3.95 paperback
What Are Private Publications?
These are books I've produced for business clients that are not for sale to the general public. They are commissioned to commemorate a corporate anniversary and are given away to clients, customers, and employees. If you would like a copy, you can contact the main offices of the corporation on the cover and request one.