1607: Jamestown and the New World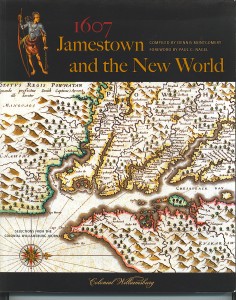 The first permanent English settlement in North America was established at Jamestown, Virginia–thirteen years before the Pilgrims landed at Plymouth Rock. 1607: Jamestown and the New World tells the stories of the Indians who lived here before the English arrived, of the settlers who crossed the Atlantic, and of what happened when the Old and New Worlds collided.
$34.95 hardbound; $19.95 softbound
Drawn from the pages of Colonial Williamsburg's popular history magazine to commemorate the 400th anniversary of the settlement, the stories in this book are written by prominent historians and journalists and lavishly illustrated with period prints and dramatically reconstructed scenes.
A Note from Me

Well, all right, I confess–I didn't write this whole book, only two chapters: "Henricus: A New and Improved Jamestown" about the abortive attempt to build a second settlement up the James River, and "The Tyme Appointed" about the carefully planned Powhatan Indian uprising of 1622 that very nearly changed the history of the United States.

This book was published in commemoration of the 400th anniversary of the first English settlement in America. Queen Elizabeth II was given a copy when she visited Jamestown in 2007. I like to think she read my chapters first.

Reviews and Blurbs

" . . . colorfully illustrated vignettes of Jamestown history written by serious scholars with a narrative flair." –Frederick Fausz, ethnohistory professor, U. of Missouri

" . . . a panorama of saints and scoundrels." –Paul C. Nagel, historian and author