Cover Art for New Book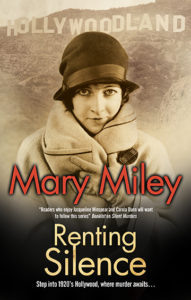 My publisher, Severn House, sent me the artwork for the cover for Renting Silence, the third in the Roaring Twenties series. I love it! I think it's the best of all my covers. The woman looks just like I envision Jessie: unruly bobbed hair, confident gaze, pretty but not glamorous. I couldn't be happier–which is lucky for me because authors usually have little to no say in their book's cover. 
The book will be released in August in the U.K., but not until December in the U.S.